Joint Commission Certified
Is your facility struggling with:
Patient safety risks due to staffing limitations?
Staff burnout?
Managing continuity of care?
Finding well-qualified candidates ready to step in?
Let's Work Together
Medical staffing solutions for when lives are on the line.
Our Vetting Process: The Best in The Business
At Curavetti, we hire only the most qualified talent using a proprietary vetting process that is second to none. We take extra steps, and perform them more often, to ensure we hire the best candidate with the right skill set and strong moral compass for each position. This vetting process improves patient care, lowers risk of clinical errors, reduces staff burnout and improves trust.
Step 1

Personal Interviews
We interview each and every candidate via video conference.
Step 2

Background Checks
Over 20 different checks done annually.
Step 3

Up-to-date Health Checks
10 different health reviews including TITER
Step 4

Comprehensive Testing
Includes competency testing for Specialty, NIHSS, and Personality
What others are saying...
"Curavetti genuinely cares about the well-being of every staff member. Not only are the pay and benefits the best, but they truly support us 24/7."
ASHLEY, TRAVEL STNA
"Curavetti is on top of their game. They are detail oriented, their fill rates are quick, their candidates are the highest caliber, and they are in constant communication to keep operations running smoothly. As a DON, I would recommend their agency to any other facility."
GOVERNMENT CLIENT
"Curavetti has been such a reliable staffing agency. They are prompt in supplying the most qualified staff and very responsive to the needs of clients and staff."
HOSPITAL CLINICAL MANAGER
Why we care so much
about our people.
Healthcare is a demanding field that requires expertise, care and compassion for every patient, every day. Only when our traveling professionals' needs are fulfilled can they fully meet the needs of others. It is our purpose to ensure the personal and professional needs of all our medical staff are met day in and day out.
Let's Work Together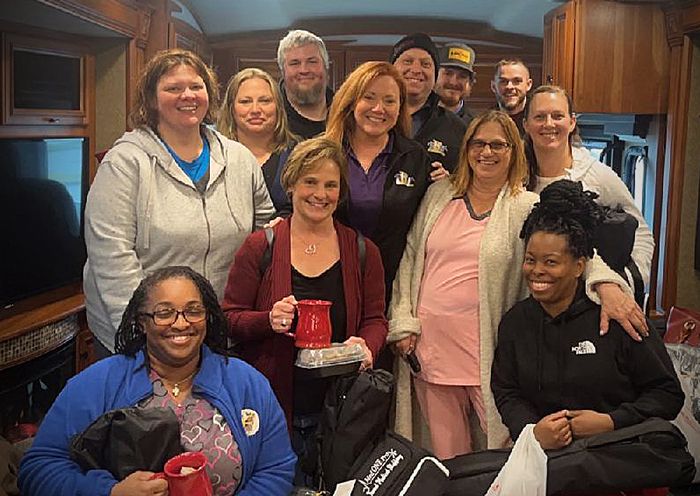 Our Mission
The health and safety of patients and medical staff are worth protecting every day. We deliver the highest caliber medical professionals to healthcare facilities improving the lives of both patients and medical professionals.